At Tree Service Bronx, we are dedicated to helping you maintain the health and beauty of your trees. Our experienced specialists are proficient in providing top-notch tree care for both residential and commercial properties, ensuring your trees receive the best possible treatment.
We understand that every tree has its unique needs, which is why our services are tailored to meet these specific requirements. With us, you can be confident that your trees will receive the best possible care.
Beyond aesthetics, proper tree pruning plays a crucial role in preventing diseases and promoting robust growth. It's not just about making your landscape look good; it's also about ensuring the longevity of your trees.
In addition to offering superior tree pruning services, we pride ourselves on delivering timely service without compromising quality. Entrust us with all your tree upkeep necessities, no matter if you're a homeowner or business proprietor.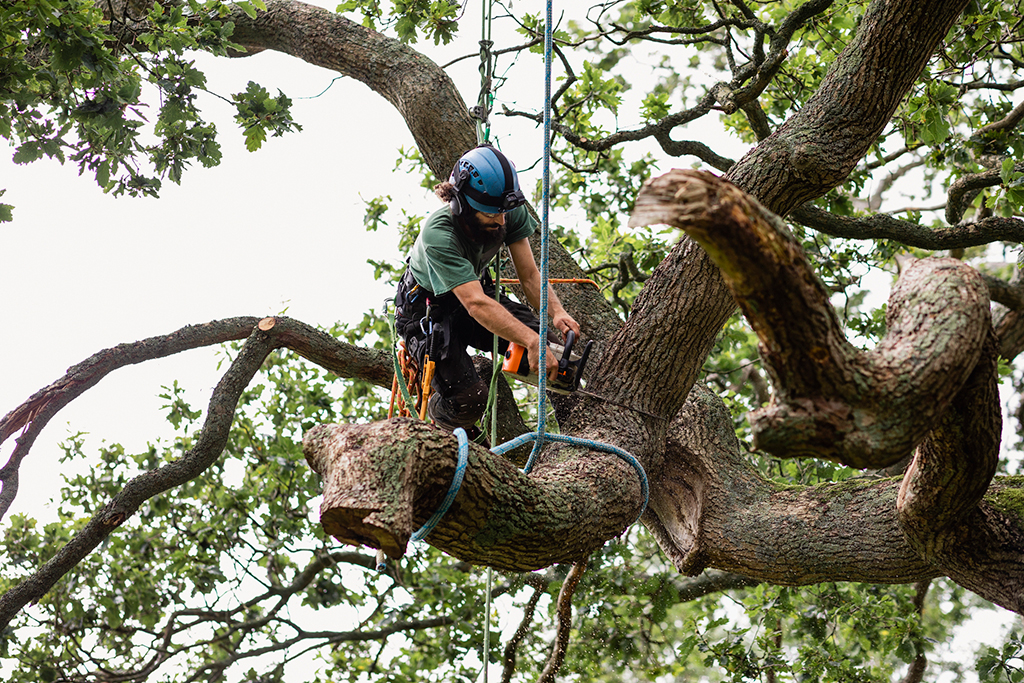 The Science and Art of Tree Pruning
Pruning trees is not simply a matter of snipping off branches, but rather an involved process that necessitates comprehension of the biology and health condition of trees as well as their growth patterns. Decisions about which single branches require reduction or removal should be based on this knowledge.
The Role of Tree Biology in Pruning
Different species have unique needs for optimal health due to their distinct biological characteristics. For example, mature trees often demand careful attention because they possess complex branch structures.
Making precise cuts while trimming these towering beauties necessitates expertise about where incisions will cause minimal harm but still promote healthy growth. Deadwood must also be skillfully eliminated to prevent diseases from spreading throughout the tree.
In contrast, incorrect pruning techniques can lead to irreparable damage by leaving wounds susceptible to pathogens or creating structural imbalances within the tree.
Importance of Proper Pruning Techniques
The health and safety of your trees depend significantly on proper pruning. This process involves the strategic removal of certain parts, such as branches or buds, that could potentially harm the tree's growth or pose a risk to its surroundings.
Minimizing Defects Through Pruning
Correctly executed pruning minimizes defects in trees by removing live branches that cause structural issues or hinder growth. For instance, if two limbs are rubbing against each other and creating friction wounds, one should be pruned out to prevent further damage.
Besides managing potential hazards like falling limbs from dying branches, we emphasize how masterfully trimming enhances overall appearance and increases sunlight penetration, benefiting undergrowth plants.
Data also suggest that thinning reduces wind resistance during storms, thereby improving a tree's resilience. U.S Forest Service research effectively demonstrates this point with studies showing reduced storm vulnerability in properly pruned urban forests.
Maintaining Plant Health With Regular Trimming Services Required
In addition to reducing risks associated with severe weather conditions, regular professional trimming services are required to help maintain plant health. They prevent diseases from spreading throughout the plant, enhancing landscape beauty while ensuring longevity. Our skilled arborists specialize in recognizing plant flaws and managing them through skillful elimination techniques.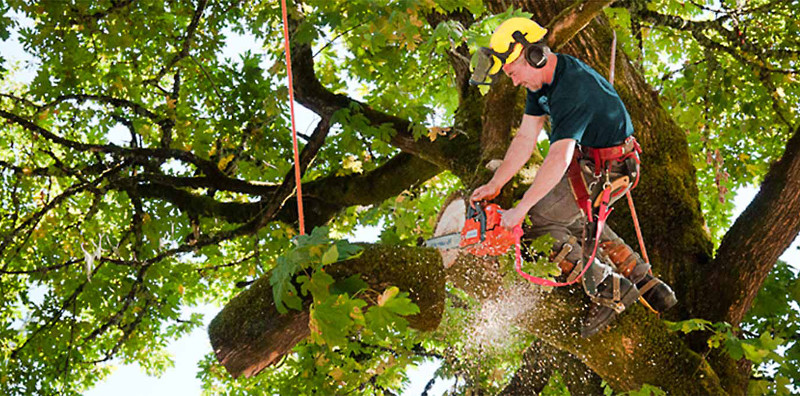 Revitalize Your Landscape with Expert Tree Pruning Services
Discover the art of tree pruning services. Learn how proper trimming boosts plant health, enhances landscape beauty, and when to hire professionals.
The Benefits of Tree Pruning
Removing dead or diseased branches through pruning helps to prevent the spread of infections, increase air circulation and promote healthy growth for your trees. By removing dead or diseased branches, you can prevent the spread of infections and improve air circulation, allowing your trees to thrive.
Additionally, tree pruning enhances the overall beauty of your landscape. By shaping and trimming your trees, you can create a visually appealing environment that complements your property's architecture and design.
When to Hire Professional Tree Pruning Services
While some minor pruning tasks can be done by homeowners, certain situations require the expertise of professional tree pruning services. Here are some instances when it's best to hire professionals:
If the tree is large or tall, and pruning requires climbing or the use of specialized equipment.
If the tree is near power lines, buildings, or other structures, posing a potential safety risk.
If you're unsure about the proper pruning techniques or the potential impact on the tree's health.
If the tree has extensive damage or disease that requires expert assessment and treatment.
Professional arborists have the knowledge, experience, and equipment to safely and effectively prune your trees, ensuring optimal results and minimizing the risk of accidents or damage.
Choose a Trusted Tree Pruning Service
When selecting a tree pruning service, it's important to choose a trusted and reputable company. Look for the following qualities:
Positive customer reviews and testimonials
Insurance coverage
Transparent pricing and detailed estimates
Clear communication and professionalism
By hiring a reliable tree pruning service, you can have peace of mind knowing that your trees are in capable hands and will be
Key Takeaway: 
Tree pruning isn't just a cosmetic boost, it's crucial for tree health and safety. Professionals offer the expertise to handle large trees, risky situations, and disease management. So choose wisely – look for credentials, positive reviews, insurance coverage, clear pricing and professional communication.
Recognizing When Trimming Service is Required
The health and aesthetic appeal of your landscape largely depend on the timely recognition of when a tree or shrub requires professional trimming. Just like any living organism, trees exhibit signs indicating their need for care.
Managing Plant Health with Regular Trimming
An overgrown canopy can be an obvious sign that pruning services are needed. If branches extend beyond the natural form of the tree or interfere with nearby structures, it's time to consider masterfully trimming those limbs.
In addition to this visual cue, lower branches blocking sunlight from reaching other plants in your garden also signal a requirement for skilled reduction. Sunlight plays a pivotal role in photosynthesis; without sufficient light exposure, plant health may decline significantly.
Disease symptoms shouldn't go unnoticed either. Discoloration of leaves or bark abnormalities might indicate underlying issues affecting your tree's health and requiring immediate attention from our arborists who understand tree biology at its core.
Maintaining regular check-ups ensures early detection and treatment while minimizing defects through proper pruning techniques by removing live branches causing structural problems impeding growth. Give us a call now for a free estimate.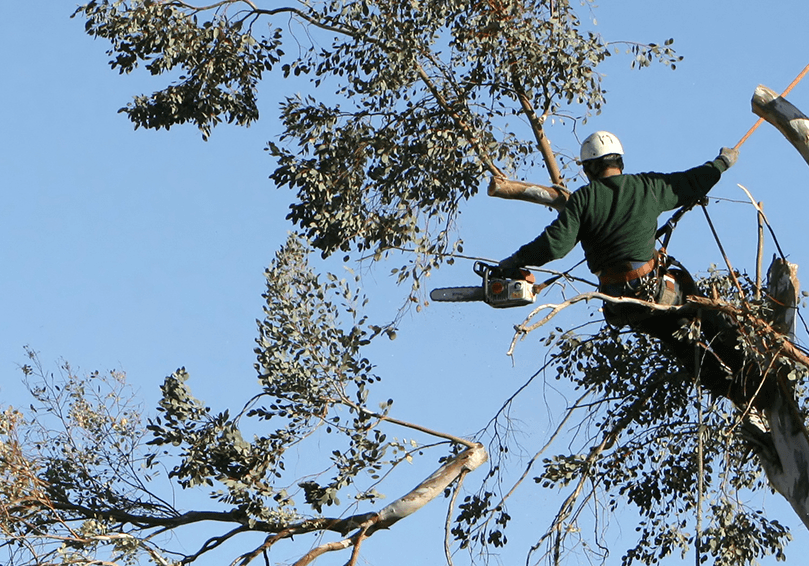 Trusting Your Trees with Tree Service BX
Your trees are not only a visual enhancement to your landscape, but also evidence of nature's strength and tenacity. We understand this significance, which is why our team of arborists brings their expertise in tree biology and pruning techniques to every job.
We know that recognizing plant flaws early can make all the difference in managing plant health effectively. Our skilled professionals have years of experience identifying these issues before they become major problems.
Detecting Plant Flaws Early On
The artistry behind masterfully trimming trees lies not only in enhancing their aesthetic appeal but also ensuring their overall well-being. This begins by detecting any potential defects or signs of disease at the earliest stages possible – something our seasoned arborists excel at.
This proactive approach allows us to address concerns promptly while minimizing disruption to your tree's growth cycle or compromising its structural integrity.
Maintaining Optimal Health Through Pruning Techniques
In addition to removing deadwood and dying branches from mature trees, proper pruning plays a vital role in promoting healthy development for younger ones as well. However, it requires understanding how each cut will impact the tree's future growth pattern – another area where our experts shine brightly.
FAQs in Relation to Tree Pruning Services
What is the average cost of tree trimming in my area?
The cost varies based on location, tree size, and complexity. On average, expect to pay between $75-$1000 per tree.
What is the best tree pruning method?
The best method depends on the type and age of the tree. However, structural pruning often yields excellent results for most trees.
When and how to prune fruit trees?
Fruit trees should be pruned in late winter or early spring before new growth starts, but when they are not at risk of frost damage.
How do you reduce a tree crown?
Crown reduction involves removing branch tips back to lateral branches that can assume their roles. It is recommended to hire professionals for this task.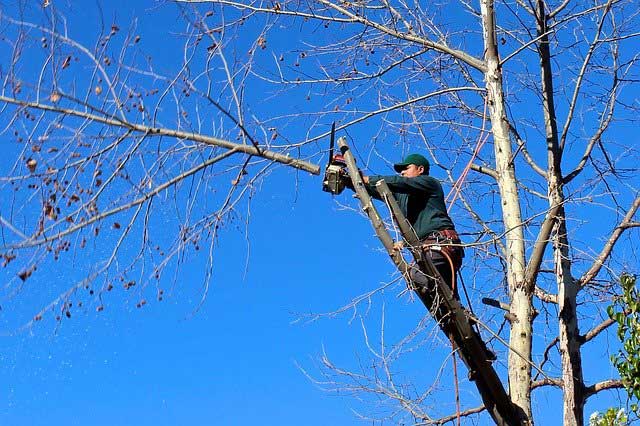 Conclusion
Tree pruning is a combination of art and science, requiring knowledge of tree biology as well as an eye for recognizing flaws and making improvements that will benefit the health and beauty of your landscape.
It's about understanding tree biology, recognizing flaws, and promoting health through skilled trimming techniques.
The right approach to pruning not only enhances plant safety but also boosts the overall aesthetics of your landscape.
Shrub pruning plays its part too – shaping plants for visual appeal while maintaining their well-being.
Knowing when to call in professionals for trimming services can make all the difference between a flourishing garden or one that struggles to thrive.
We are here with our team of arborists who bring expertise and commitment to every job we undertake.
We're ready to revitalize your landscape with expert tree pruning services today!