Tree Services in the Bronx
Seeking Affordable Bronx Tree Services?
Call 877-572-5009
Tree Service Bronx is fully versed in providing you with the best Bronx tree services in the industry. Our trained and experienced professionals are fully insured to deliver excellent customer service and safety to you and your property first. We care about you and your needs and offer the following Bronx tree services to help you with all your tree problems.
Tree Trimming
Tree trimming is vital for your tree's health and the safety of those around you. Removing dead, diseased, or damaged branches can prevent further infestation or the death of the entire tree. These branches are the most likely to rot and fall off, posing a danger to people or nearby structures.
If you find that your trees are otherwise healthy, but you'd like to let more sunlight in, trimming a dense canopy can help you achieve the atmosphere you want for your outdoor living spaces. Trimming your trees regularly along with additional Bronx tree services will stimulate new growth in sparse areas, stunt growth in dense areas, and prevent weakness or splitting.
Trimming your trees makes your landscape thrive and fills it with vibrant life.
Tree Pruning
Pruning is done with intention and purpose. Each cut has the potential to alter the tree's growth, lifespan, and more. Pruning is necessary for landscaping aesthetics more so than improving tree health or eliminating dangers.
We never intend to hurt our trees, so while cutting is a dangerous business, some homeowners associations, city ordinances, or other rules require the regular pruning of trees. If that's the case in your neighborhood, we're happy to prune your trees in a way that preserves and even extends their life via our Bronx tree services.
Tree Removal
While there are obvious reasons for removing trees, like death or severe damage, there are also some not-so-obvious ones. You may need to use tree removal services along with additional Bronx tree services if your tree has structural issues, is cracked, is too large, is in the way, or has an infection.
You can't always see these problems, but a professional arborist can find them. While it's hard to let go of a beautiful tree, enlisting the help of an expert will help you decide the best course of action for the safety and health of your yard and your family.
Stump Grinding
In the unfortunate event that your tree dies, falls, or needs to be removed, we can also take care of the stump safely. We offer these stump grinding services so you can remove all evidence that a tree existed, allowing you to plant something new or enjoy the space in some other way.
Stump grinding is very different from stump removal. Stump grinding removes the stump and leaves the roots to decay, which acts as a fertilizer for any new plants. This results in nutritious soil that is rich in nitrogen and gives your next tree a healthy start at life.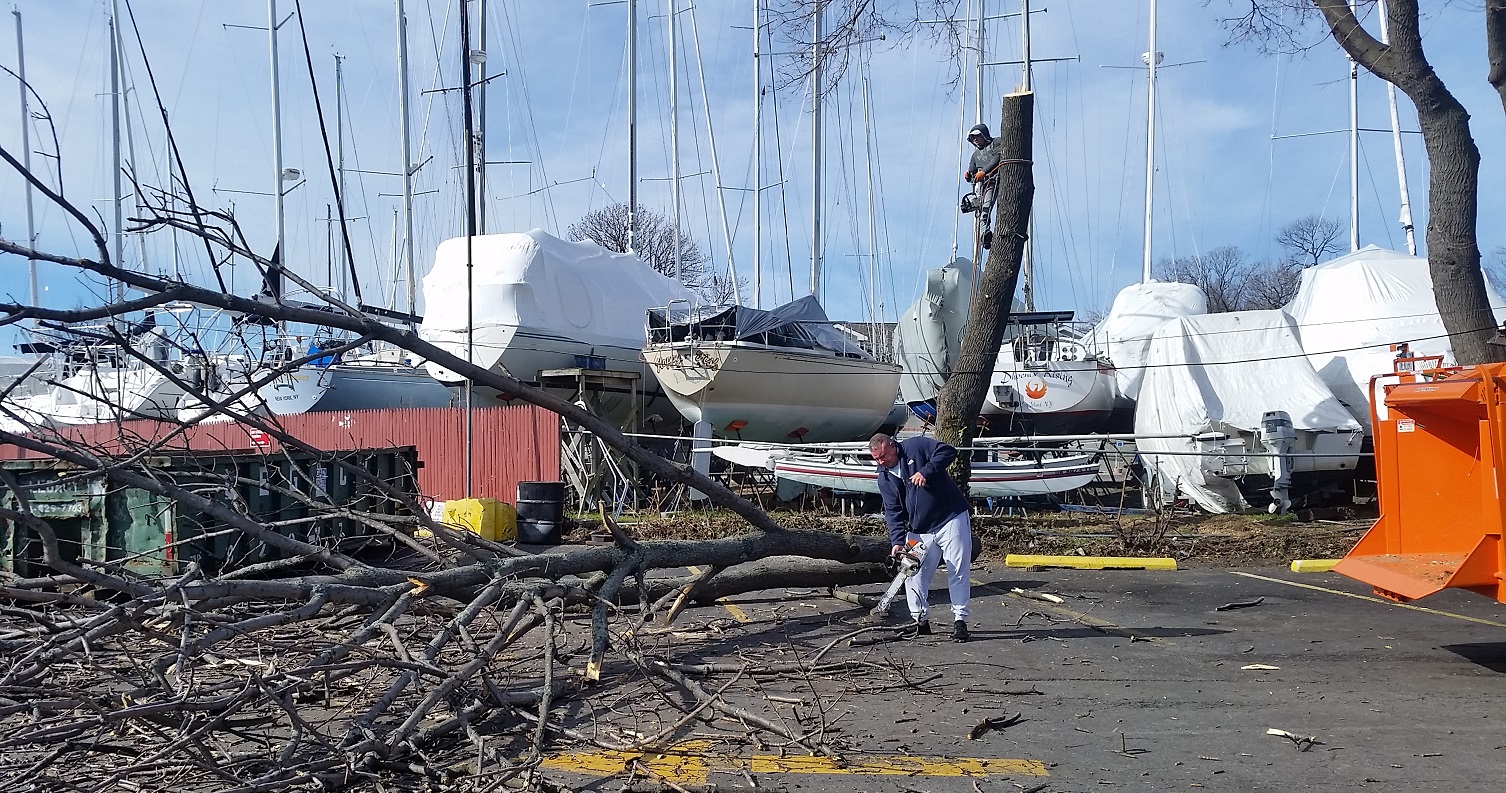 Emergency Bronx Tree Services
Call 877-572-5009
When you find yourself in the middle of a tree emergency, we provide 24/7 Bronx tree services assistance. After storm damage, a fallen tree on your house or driveway, or another situation in which you need help immediately, we will mobilize our crews day or night to get you back on track.
Even if your trees don't look damaged, after a storm is the perfect time to have us assess your area on-site and ensure that everything looks normal. It's often days or weeks after a storm that you feel the effects of damage you can't see, but we can find it and fix it right away. All you have to do is call.
Free Inspections and Quotes
If you suspect you may need any tree services in the Bronx, but you're not sure what to do, we will come out and provide a free inspection and quote. We have over 50 years of experience in the business and are trained to identify problems and suggest solutions.
Seeking Affordable Bronx Tree Services?
Call 877-572-5009
Routine maintenance is especially important, so let us give you a quote for continued services that can help keep your trees looking beautiful and healthy. Customer satisfaction and safety is our top priority.
Give Us a Call
Help is only a phone call away. Taking care of trees is a dangerous business, but somebody must do it. If you need any of these services or you'd like to have us to inspect your trees and write up a quote, you can call us anytime.