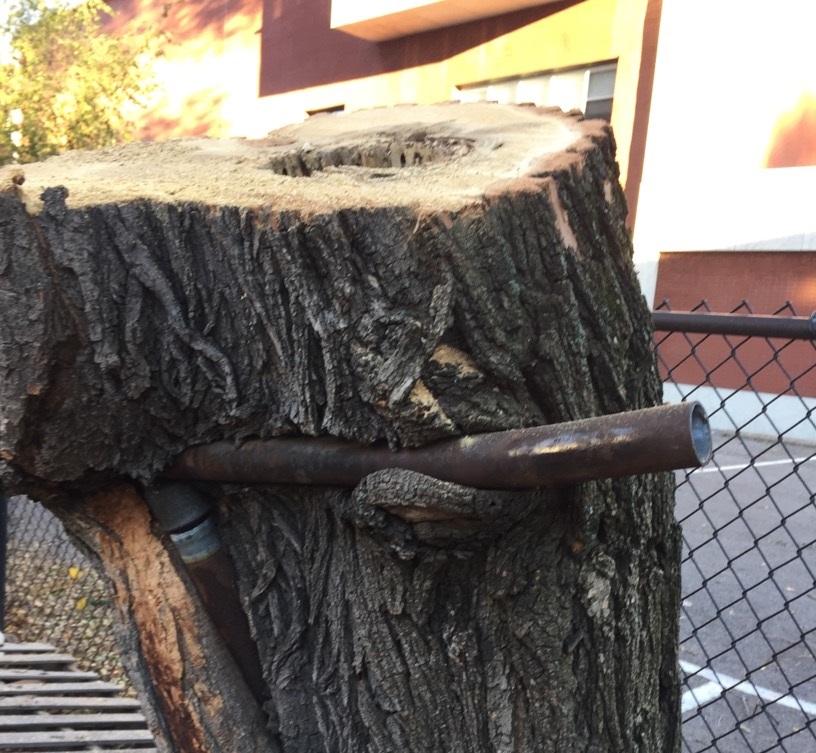 Help Is On The Way!
Looking for stump removal and grinding in the Bronx? Contact Affordable Tree Service Bronx. We have served residents and commercial property owners for over 50 years and are highly experienced with stump removal. Our team knows the dangers a tree stump poses to you and your property. We do our best to remove it from your property without causing any damage to the surrounding trees.
Our trained professionals are fully insured and work hard to meet your specifications.
Contact us for stump removal today!
Stump Removal
Whenever a tree falls, it leaves behind its stump anchored to the ground. Left to decay naturally, it could take at least a decade for tree stumps to vanish. Most people do not like dead tree stumps rotting in their backyard. Dead and rotting stumps look sore for the landscape. They can even spread infections by housing pests and rodents. If you have a similar problem on your hands, reach out to us to help you clear such tree stumps efficiently.
Complete Removal
Small stumps are easy to remove from your yard completely. Complete stump removal might not be possible for the larger ones due to their wider spread underground. The removal process starts with cutting down the stump further until it reaches ground level. After that, a stump removal company can dig around the stump to loosen the soil. Our experts often use the broader end of a mattock to do this. This includes the remaining stump along with attached roots. Once loose enough, we remove as much soil as possible until the roots are exposed. After that, the roots are cut separately and dug out. Using a root saw, we cut the roots into smaller and more manageable pieces. The aim is to reach the taproot, which is the thickest attachment to the stump underground. One can also run their chainsaw to cut through the taproot. This would make it easier to pull out the stump. More soil is loosened, and the stump is wiggled out from the topsoil. After that, all you would be left with is a big cavity in your yard. Filling it up with sawdust or loam could prevent further soil collapse.
Stump Grinding
Grinding could be a more efficient and popular way to get rid of those stubborn stumps for you. Larger stumps could mean more scatter of roots beneath the soil. Digging out the entire assembly is neither easy nor feasible. What do you do then? Grind the stump up to a certain depth and leave the roots below without disturbing them. To do this, you would need a heavier grinding machine and a professional to operate. It is better to seek professionals like us as these grinders can only be used by trained individuals of stump grinding service providers. Proper caution and protective gears are absolutely necessary to operate stump grinders. Using a root saw, one can remove pieces from the stump till it reaches ground level.
After that, it becomes easier to use the grinding machine. Try removing any visible stone or other hard objects near the target area manually. Position the grinder over the stump and push on the start button. Stump grinding would result in a large quantity of woodchip debris which you might want to use as mulch for other plantations. Alternatively, you could also get the pile of woodchips cleared out. Keep grinding around the stump perimeter and down up to about 4 inches below the ground. The remaining roots would be left underground to decay naturally. Post grinding, you can fill up the stump cavity using the same wood chips and cover it with topsoil or grass.
Why Is Stump Removal Important?
Tree stumps can sometimes pose many problems for property owners. Here are a few reasons why stump removal is important:
Stumps Can Be an Eyesore
While trees add a lot of beauty to your property, tree stumps can become an unpleasant site on your property. Tree stumps don't add any value to your property's curb appeal. Hence, it is a good idea to get the tree stump removed from the yard.
Tree Stumps Can Lead to Dangerous Hazards
Stumps left by themselves in the yard can be dangerous. If you have kids running around in your yard, they can trip over the stump and fall. The stump can also cause injuries to your family members, neighbors, or visitors. It can also lead to unnecessary expenses if you accidentally hit the stump when mowing your yard. That is why stump grinding and removal become important.
Home to Insects and Pests
Tree stumps left by themselves begin to rot over a period of time. This decay can attract wood-boring beetles, carpenter ants, termites, and other insects and pests. If the stump is close to other healthy trees, it will also affect their health. The pests residing in this stump will get attracted to the other trees and infest them as well. And if these stumps are close to your building, then the infestation can spread inside your home or commercial property as well. At such times, it is a good idea to hire a stump removal service and remove the tree stump.
Stumps Can Sometimes Lead to Regrowth
Some types of tree stumps, when left undisturbed, can lead to regrowth. If you have intentionally cut the tree, then this regrowth can become an unwanted and unwelcome problem.
Stumps Can Cause Disease
You may have cut down a tree because it developed a disease and begun rotting. If you leave the tree stump, it can lead to the disease spreading to other healthy trees in the yard.
Stump Removal and Grinding Services in The Bronx
At Affordable Tree Service Bronx, we understand many situations why you may have to get rid of the tree stump on your property. Our team of technicians uses standard equipment only and takes all safety precautions to remove your tree stump.